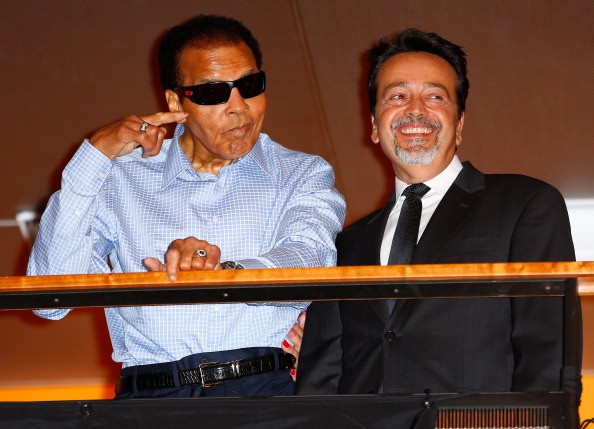 Muhammad Ali is an American former professional boxer with an estimated net worth of $50 million. Ali is widely considered one of the greatest heavyweight champions in the history of the sport.
Cassius Marcellus Clay Jr. was born on January 17, 1942 in Louisville, Kentucky. His father Cassius, painted billboards and signs, and his mother Odessa, was a homemaker. Clay was first introduced to boxing when he was 12-years old. He would go on to post a 100-5 amateur record that included numerous Golden Glove awards and an Olympic Gold Medal in the Rome games in 1960.
Clay mad his professional debut on October 19 1960. Over the next three years Clay would go 19-0 in fights. In 1964, Clay won the heavyweight title when he beat intimidating champion Sonny Liston. That same year he changed his name to Muhammad Ali when he joined the Nation of Islam. In his career, Ali would post a 56-5 record and win and retain the heavyweight championship multiple times. His most famous fight was against George Foreman in Kinsasha, Zaire in 1981. Ali would win the title for the third time.
Some of Ali's bigger fights include: a fight vs. Joe Frazier in the Philippines labeled the 'Thrilla in Manila', his three epic bouts vs. Ken Norton, and his knock out of Sonny Liston, which is featured on various posters and images of Ali. There's no doubt that the Frazier vs. Ali series during their careers was one of the biggest in the history of boxing.
Ali would widely be regarded for revolutionizing the sport of boxing. At a time when boxers let their managers do the talking, Ali craved the spotlight and thrived when in it. He transformed the role and image of African American athletes by his willingness to embrace the pride of his race and antagonize the conformity of the white man. While some regard Ali as the greatest that has ever fought, Ali was tabbed as the second best fighter of all-time by ESPN.com behind welterweight and middleweight champion Sugar Ray Robinson. In another instance, they also listed Ali number two in terms of heavy weights behind Joe Louis. The Associated Press got it right in 1999 by labeling Ali the greatest heavyweight boxer in the 20th century.
Ali was diagnosed with Parkinson Syndrome in 1984. Much of Ali's net worth is attributed to his incredible boxing career and minor endorsement portfolio. Post-boxing Ali was recognized with dozens of awards including the 1997 Arthur Ashe Courage Award. He is the subject of various biopics and documentaries and has made guest appearances in various talk shows and sitcoms.
Ali has had a very tumultuous career. Outside of his boxing Ali faced legal issues for dodging the draft, deportation threats, and more. There were times when he looks like he would never box again – but he persevered and is one of the all-time greats. Ali's net worth currently sits at $50 million. His ability to earn is severely dimished these days because of his disease. However, his legacy will not only endure forever, but will ensure that he remains financially stable for the remainder of his days. Ali