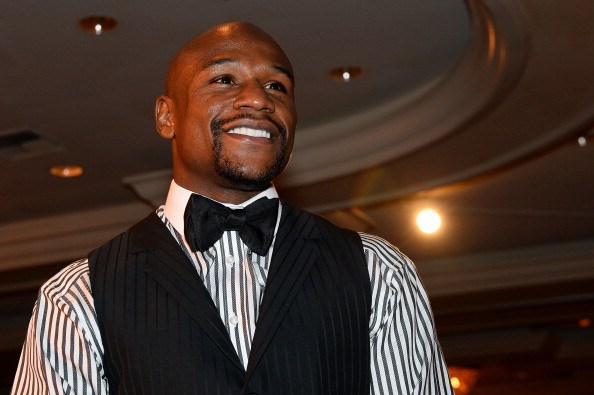 Floyd Mayweather Net Worth – $300 Million
Floyd Mayweather Jr. is an American professional boxer with an estimated net worth of $300 million. Mayweather Jr. is undefeated as professional and a two-time Ring Magazine 'Fighter of the Year'. Floyd Joy Sinclair was born on February 27, 1977 in Grand Rapids, Michigan. Mayweather comes from a long line of boxers. Both his father and uncles were successful professional boxers. Mayweather was born with his mother's name, but eventually changed it to his father's. Mayweather took up boxing at an early age to cope with family issues. It wasn't long before he was successfully fighting at an amateur level.
Mayweather fought his first professional fight on October 11, 1996. His most recent fight was September, 2013 in which he beat Saul Alvarez. In between those two fights, Mayweather was covered with success. He's never lost a professional fight and is widely considered one of the best boxers of his generation. In the past seven 8 years, Mayweather has made a total of $330 million from his fights alone. In 2006, Mayweather made $8 million in a fight vs. Carlos Baldimir. In 2013, Mayweather fought twice, each fight earning him $50 million respectively.
Among Mayweather's most lucrative fights are: 2007 fight vs. Oscar De La Hoya, 2009 fight vs. Juan Manuel Marquez, 2010 fight vs. Shane Mosley, 2011 flop-of-a-fight vs. Victor Ortiz, and 2012 fight vs. Miguel Cotto. As we mentioned above, these fights were all wins as Mayweather is undefeated in his career. Collectively, these fights have earned Mayweather close to $200 million.
Despite earning record paydays for his fights, Mayweather has been a subject of controversy putting his net worth in question. He's been sued and/or taken to court several times to failure to make payments in a sum of close to $10 million. He's also been charged by the IRS with owing close to $10 million in back taxes.
Outside of boxing Mayweather has made special guest appearances for the WWE and appeared on Dancing With the Stars. He has his own clothing line and promotional company called The Money Team. He currently resides in a 22,000 square foot, seven-bath mansion in the Southern Highlands Golf Club in Las Vegas, Nevada.
Mayweather's net worth is attributed to his incredible fight contracts that are loaded with pay-per view incentives. He's also been known to be an avid gambler who places large sums of money on events and publicizes the photos (when he wins). He's gone on record to say that he keeps over $100 million in cash in the bank. Mayweather has no problem promoting his total wealth. Aside from his mega mansion, he owns several vehicles and other toys valued at well over $5 million.
Overall, despite legal troubles, Mayweather's total assets are close to $200 million. It'll be interesting to see how Mayweather's net worth moves in the future. He is on the brink of retirement and clearly lives a lavish lifestyle that he may not be able to support once he is no longer fighting. He's also done himself a disservice by not attempting to build his public image, which would make it difficult to earn money later on in his life.
His most recent fight vs. Manny Pacquiao earned him another $300 million from Pay Per View fees, sponsorships, licensing deals, and more.  Floyd has got one more fight in him which is sure to make him even wealthier.