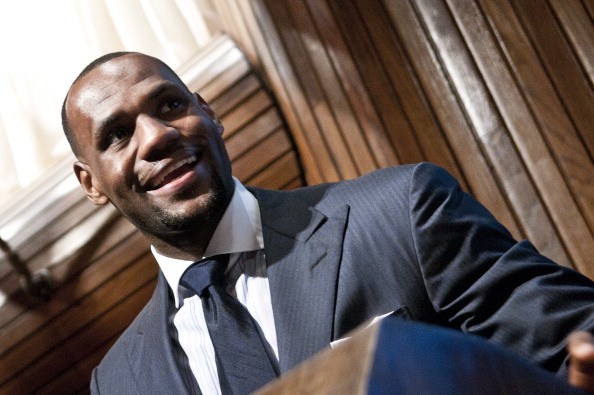 LeBron James is a 29-year old professional basketball player who has a net worth of $185 million dollars. Lebron James' net worth has been built on his NBA salary, various endorsements, and various business activity. James was born on December 30, 1984 in Akron, Ohio to a 16-year old mother, Gloria James. Gloria raised LeBron on her own until she realized she could not longer support him and allowed him to move in with a youth football coach, Frank Walter, who introduced LeBron to bsaketball at age 9.
LeBron James first came onto the scene as a high school player at St. Vincent-St. Mary's high school. He appeared on national television as many of his games were broadcast live. Amidst controversy, including receiving a brand new H2 Hummer from his mother who secured a loan based on James' future earning potential, Lebron became the "most-hyped high school player ever".
James was drafted by the Cleveland Cavaliers as the first overall pick in the 2003 NBA Draft. in 2010, James was in the spotlight as he chose to sign with the Miami Heat as a free agent leaving his hometown Ohio club. James' announcement to join the Heat was a controversial televised event that raised millions of dollars for the Girls & Boys Club. James has earned over $92 million in salary alone from the NBA. His current contract pays him $19 million annually.
Lebron's net worth is driven by a plethora of endorsement contracts. Among his deals – Audemars Piguet, Coca-Cola, Dunkin' Brands, McDonald's, Nike, State Farm, and Samsung. His initial contract with Nike out of high school was valued at over $90 million as Adidas and Reebok drove the bidding war for the James. In 2011, The Fenway Group became the sole global marketer of his rights and as part of his deal he became a minority owner in the English futbol club Liverpool F.C. Currently, James is working on a Starz sitcom which features two inner city Philadelphia friends who become successful while their friends struggle.
LeBron James is widely considered one of the best basketball players to ever live. He's a 10x All-Star, 4x NBA MVP, 2x NBA Champion (MVP both times), Sports Illustrated Sportsmen of the Year in 2012, and AP Athlete of the Year in 2013. James involved with various charities and has raised millions of dollars for those charities. He's a highly polarizing figure. The public has declared him most popular, most disliked, and most influential athlete in the world. He's been declared by Forbes as one of highest earning athletes in the world.
LeBron's current net worth sits at $185 million and will figure to grow as he still has plenty of years left in the NBA. The question of whether or not LeBron can take his wealth to the next level like a Magic Johnson or Michael Jordan still remains to be seen. He's already began making efforts to expand his business, and it's easy to imagine that LeBron will have a prominent role somewhere after his playing days are over. For now, he can enjoy a cool $185 million.
After losing in the finals this year James decided to recently sign with his former team, the Cleveland Cavaliers for two years for $40 Million.