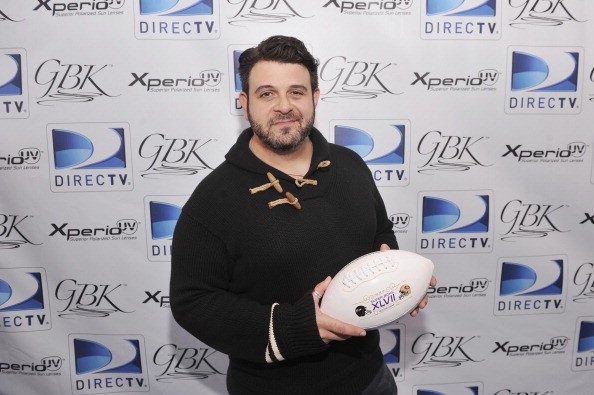 How Much Is Adam Richman Worth?
Adam Richman is a Brooklyn-born television host, actor and sushi chef with an estimated net worth of $8 million. He's best known for his role as host on the Travel Channel's hit show Man v. Food and its spinoffs, Man v. Food Nation, Amazing Eats and Adam Richman's Best Sandwich in America. Richman has a new show called Man Finds Food that was scheduled to debut on July 2, 2014 on the Travel Channel, but the network announced that day that show was being postponed after the host made several inappropriate and comments to people on social media.
Early Life
Richman was born on May 16, 1974 in Brooklyn, New York to Jewish parents who raised him in their faith. Richman is an only child. After graduating high school, Richman went on to earn a degree in International Studies from Atlanta's Emory University, but he wasn't done just yet. He then applied to the Yale School of Drama where he later graduated with his Master's Degree. He was part of the Alpha Epsilon Pi fraternity, which is a popular Jewish fraternity.
After graduating from the Yale School of Drama, Richman landed guest roles on several television series, including soap operas Guiding Light and All My Children, and the primetime hit Law & Order: Trial by Jury. He also played the role of God the butcher in Joan of Arcadia in 2004. During this time, Richman also appeared in many theater productions across the country as well as many television commercials that aired nationally. Richman also used this time to train himself as a sushi chef. He is now considered a self-trained food expert.
TV Work
On December 2, 2008, the Travel Channel premiered Man v. Food. The reality show was hosted by Richman. The premise of the show, which aired until 2011, was to follow Richman across the country as he sampled food at different restaurants. Not just any food, however. Richman was responsible for exploring "big food" and attempting to break records consuming those big foods at different restaurants. The reality host would consume massive steaks, shakes and everything in between. He had to work out twice daily in an attempt to maintain his health while filming. Unfortunately, the host gained a significant amount of weight as a competitive eater during the three years his filmed the show. This encouraged him to retire from the profession in early 2012. He suffered a bout of depression and improved his quality of life by losing 70 pounds.
During his final season as host of Man v. Food, Richman became the spokesperson for Zantac, which is an apt collaboration considering the drug is used to counteract stomach acid. Additionally, he spent the better part of 2010 researching and writing "America the Edible: A Hungry History from Sea to Dining Sea," which hit bookshelves in November 2010. Two months later Richman appeared as a guest judge on the hit Food Network Series Iron Chef America.
2011 was a big year for Richman as he hosted three more shows on the Travel Channel. He hosted The Traveler's Guide to Life, Amazing Eats and Adam Richman's Best Sandwich in America. Richman also took on the role as host of an NBC game show by the name of Food Fighters, but the network has continuously delayed the premier, which was supposed to occur sometime in 2013 or 2014. He was also scheduled to host the Travel Channel's newest series, Man Finds Food, set to premier on July 2, 2014 but was cancelled due to a controversy involving the host on social media.
Personal Life
Richman's life off-screen is fairly simple. He travels often, keeping a journal that document every restaurant in which he dines during his extensive travels around the world. He is not married and he has no children. He still lives in his native Brooklyn, despite his success and an impressive net worth of $8 million. In wake of the controversy surrounding his Instagram rant in 2014, it remains unclear as to whether or not Richman's career will pick back up after an indefinite hold. His current network has yet to make an official decision as to the state of affairs surrounding Richman and his new series. As of right now, the official word is that it's simply been delayed.
(Photo by Stephen Lovekin/Getty Images For DirecTV)