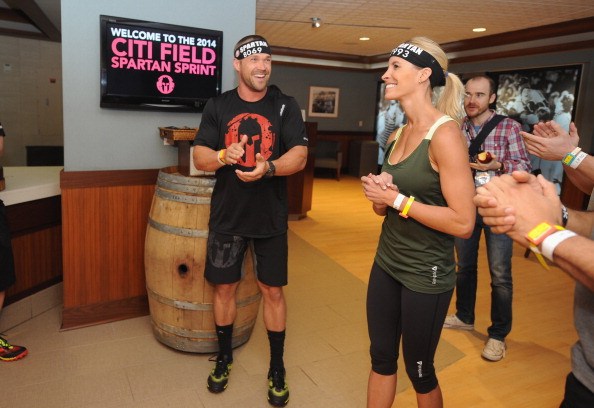 It seems that it's not fair someone has an amazing body and an even more impressive bank account, but that's exactly what you get when you're one of the richest celebrity fitness trainers in the world. The price celebs pay to look as good as they do isn't inexpensive, and these trainers aren't going easy on their clients. For that reason, they've built successful personal brands, and an incredible amount of wealth to go along with it. The bottom line is that these celebrity fitness trainers get results, and their bank accounts prove it.
Jane Fonda, $120 Million
Most people remember her from her 80s and 90s workout routines complete with off-the-shoulder tops and big hair. While celeb kids can laugh at their mother's famous workout routines, they can't ignore the fact that work and that Jane Fonda was one of the biggest celebrity trainers in the world before she became one of the biggest celebrity actresses in the world in her own right.
Tracy Anderson, $110 Million
Her celebrity clients are some of the biggest in the world and include famous people such as Jennifer Lopez and Madonna. Tracy Anderson rose to fame as a trainer with her post-baby workout routines and has quickly become the choice for celebs looking to get into shape quickly. Her dance-cardio workouts are making her richer and richer every day.
Billy Blanks, $30 Million
Anyone who has ever tried Tae Bo can thank Billy Blanks. This celebrity trainer was once an actor himself, but now he focuses his time on kick boxing and karate, whipping celebs into shape for their next big role, the red carpet and magazine shoots. His boot camp approach to training is popular among celebrities.
Chuck Norris, $26 Million
He's the punch line of a million jokes, but he's laughing all the way to the bank. The Total Gym workout is one of the most popular on the planet, which is exactly why Chuck Norris is one of Hollywood's favorite trainers. His hard core, no-nonsense approach to working out is what makes so many celebrities look and feel good – despite the intimidation that encompasses Chuck Norris.
Tony Horton, $10 Million
He's the face behind the NordicTrack and the creator of P90X. He's also a famous celebrity trainer who just makes it onto the list of the top five wealthiest celebrity trainers in the world, just ahead of other fitness gurus such as Jillian Michaels. Celebs call Horton to help them tone up and look great as quickly as possible, because his routines pay off.
(Photo by Brad Barket/Getty Images for Reebok)