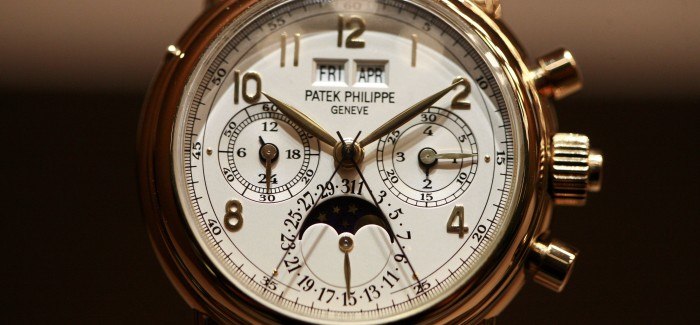 Why are people, specifically men, so interested in luxury watches? A luxury watch does more than just tell time. It portrays preferences and characteristics about the wearer, helping others to draw a quick conclusion about them, just by looking at their watch. Wearing a watch shows that the wearer is conscientious, punctual, and, most likely, very dependable. It also shows that the wearer values fine objects that take a lot of time, effort, and energy to design and create.
For those that are familiar with individual watch brands, they may draw conclusions about a person based on the specific watch brand he or she is wearing. Some brands portray an image of traditionalism and sophistication, while other brands give the perception that the person is edgy and keeps up with the latest trends. The brand of watch one wears shows what characteristics he values and what he finds important.
Here's my take on a few of the more well-known watches and what those brands say about the wearer:
Rolex
Rolex is one of the most widely recognized brands in the entire world. Rolex watches represent tradition and centuries of excellence. Someone who wears a Rolex watch most likely values tradition and is not concerned with the latest fads or trends. They used their money to purchase a timepiece that will last for several decades, showing that they value quality, tradition, and durability.
Breitling
Breitling prides itself on producing precise timepieces that have become the watch of choice for many pilots. Breitling watches are incredibly durable and reliable and the brand is a leader in the wrist chronograph. Breitling wearers place an importance on performance and function. They most likely bought a Breitling watch for its tools and capabilities. They are probably active and adventurous and cannot wait to put their Breitling watch to good use.
Cartier
Cartier is important to the history of wrist watches as it played a large role is popularizing the wrist watch soon after it's introduction. Cartier is widely known for it's sophisticated and chic jewelry and has applied this expertise to it's watch designs. Cartier watches are elegant and stylish and are usually worn on the wrist of fashionable, well-dressed men and women.
Hublot
Hublot watches are very unique and innovative. These watches perfectly combine traditional Swiss watchmaking with industrial and innovative designs. Hublot was the first watchmaker to create a watch with a precious metal case, fitted on a rubber strap. Hublot still uses this one-of-a-kind design in most of its watches today. Those who wear Hublot watches are most likely looking for a unique, high quality timepiece that you don't see every day.
IWC
IWC Schauffhausen has incredibly high standards for precision and time-keeping. IWC is known for its incredibly accurate watches that are typically the watch of choice for many pilots, sailors, and yachters. However, IWC watches are also perfect for use as an everyday watch. IWC wearers most likely value simplicity and functionality and appreciate the brand's history.
OMEGA
An OMEGA watch can also say a lot about the wearer. The OMEGA wearer is concerned with value and getting what he paid for. OMEGA watches are less expensive than many of the brands in the luxury watch industry, but is equivalent when it comes to quality and functionality. OMEGA wearers are most likely to be very practical and realistic and is not looking for anything flashy or too expensive.
Panerai
Panerai watches are very easily identifiable due to their unique shape and style. Their simple, yet oversized cases and dials, are immediately recognizable. Panerai watches were created with avid divers and adventurers in mind, so they have to be dependable and durable. The man that wears a Panerai watch is most likely adventurous, but also cares about style.
Patek Philippe
Patek Philippe is one of the oldest luxury watch brands and makes some of the finest and most innovative timepieces. The brand has a long and strong tradition, as it is responsible for introducing the perpetual calendar and the minute repeater, along with many other innovations. It also created the very first wristwatch in 1868. Patek Philippe watches are typically quite expensive as one is paying for a finely hand-made watch. A man wearing a Patek Philippe values tradition and fine craftsmanship and has found the perfect way to show off his monetary success.
A luxury watch can say a lot about a person. It shows what they value and what they believe is worth spending hundreds or thousands of dollars on. Next time you see someone wearing a watch, check out what brand it is. You might just learn something about them, without even having to say a word to them.