The American video-sharing website YouTube has been around since 2005 when it was started by a group of former PayPal employees. What started as a simple upload, view, rate, and share affair has since become one of the top ways any ol' Joe Schmo can earn a living—an exceptional living, at that.
It's through producing videos like makeup tutorials, documentation of their daily life, music videos, and comedic satires that everyday people of all ages (you'll see) are raking in the actual, real-life cash in the six-figures. You can even watch videos of people playing video games—instead of playing them yourself. What a brave new world it is, folks!
So you can stay up on who's hot out there in cyberspace, here are 25 of the top YouTubers (and how much they're worth).
Michelle Phan — 8.9 million subscribers
First on the list is Michelle Phan who got on board the YouTube train early on. She's credited with being the first (of many to follow) beauty and makeup experts. She uploaded her first video, "Natural Looking Makeup Tutorial", way back on May 20th, 2007 and it's been viewed over 12 million times.
She currently has almost nine million YouTube subscribers, despite the fact that she left YouTube over a year ago for personal reasons. Regardless of the fact that she's not even active anymore, she's still estimated to be worth $50 million and currently still makes money off her old videos.
The Slow Mo Guys – 11.8 million subscribers
The YouTube channel for the Slow Mo Guys is about as simple as it gets—they post videos of things happening in slow motion and it's a huge hit. Their YouTube show comes to you from Thame, England and stars creator Gavin Free and Daniel Charles Gruchy. Apparently, it's YouTube's biggest slow motion account.
The Slow Mo Guys have almost 12 million subscribers and 1.5 billion views of their science and technology-focused videos. Dan Gruchy's net worth is unknown at this time but Slow Mo Guys creator Gavin Free is estimated to be worth over $5 million.
Miranda Sings — 10 million subscribers
Miranda Sings is a fictional YouTube character created by American comedian Colleen Ballinger. In her videos she presents herself as a satire of other YouTube videos creators, posting videos of herself singing badly, talking about her life, giving ridiculous "tutorials", and dancing… poorly.
The Miranda Sings YouTube account recently surpassed 1.9 billion views since January 30, 2008 and currently has over 10 million subscribers. It is estimated that Colleen Ballinger, creator of Miranda Sings, has a net worth of $8 million, making between $9k and $152k a month.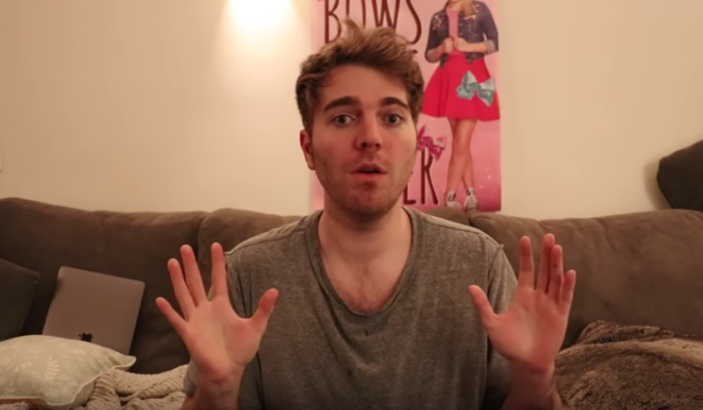 Shane Dawson — 16.7 million subscribers
Shane Dawson, known outside of the YouTube world as Shane Lee Yaw, is an American web star known for his sketch comedy, paranormal activity, and conspiracy theory videos. Dawson was one of the first YouTubers to rise to fame outside the video sharing service and has posted consistently ever since. In addition to his YouTube videos, he also had a podcast called Shane and Friends that ran for 4 years, producing 140 episodes.
Shane Dawson was just 13 years old when he started sharing videos and currently has over 19 million subscribers who have watched his videos almost 5 billion times. He's said to make between $52k and $845k each month, resulting in an estimated $4 million net worth.
Jeffree Star — 12 million subscribers
YouTuber Jeffree Star first found success back in the days of MySpace (he once led all of MySpace in followers) as a musician but has since gone down a very different road. Today, Star is a makeup mogul creating videos on makeup tutorials and reviews, fashion features, and other hilarious, personality driven shorts.
The Jeffree Star YouTube account currently boasts 12 million subscribers but that's not his only venture. Star also started a successful cosmetics company of his own called, appropriately, Jeffree Star Cosmetics. While Star is estimated to be worth $50 million, he still makes over $300k per month just from his YouTube videos alone.
Lilly Singh — 14.4 million subscribers
Lilly Singh—which is actually her real name—is a YouTube megastar who often goes by the alias IISuperwomanII. She routinely ranks as one of the top YouTubers each year thanks to her likeable personality and hilarious comedic spoof videos featuring well-known celebrities.
In 2017 Lilly Singh was ranked 10th on the Forbes list of highest earning YouTubers having earned a mind-blowing $10.5 million that year. Her 14.4 million subscribers have watched her videos over 2 billion times in the past nine years bringing her estimated net worth to about $16 million.
Liza Koshy — 16 million subscribers
Like Lilly Singh, Liza Koshy has made a name for herself in the business of sketch comedy videos. In addition to her successful YouTube channel, she's also an actress who has portrayed characters in a Tyler Perry film, a Hulu drama television series, and more. She also co-hosts an MTV television series and a Nickelodeon game show.
Liza's YouTube channel, famous for its "Liza on Demand" series, has over 16 million subscribers. She earns between $11k and $185k per month bringing her total estimated net worth to be around $4.4 million—quite remarkable given her mere five years on YouTube.
Matty B Raps — 11 million subscribers
MattyBRaps, legally known as Matthew David Morris, shockingly was born shortly before many of these other YouTubers posted their first videos. He is an American hip-hop artist known for his YouTube Remix videos who obviously got his illustrious start very, very young.
The MattyBRaps YouTube channel has over 11 million subscribers at this point with a whopping 5+ billion views altogether in the past 9 years. His estimated net worth is just 1.5 million (modest compared to some of the rest on this list) but he makes between $12k and $200k per month.
Nikkie Tutorials – 11.5 million subscribers
Nikkie Tutorials, with its 11 and a half million YouTube subscribers, is one of the top makeup and beauty channels on the video sharing site. It's run by Dutch makeup artist Nikkie de Jager who even launched some of her own beauty products to rave reviews.
Nikkie Tutorials has been vlogging regularly for the past ten years and has videos on almost all beauty-related subjects. Her YouTube success has awarded her with an estimated $2 million net worth and passive income earnings of between $6k and $102k per month.
Roman Atwood — 15 million subscribers
Roman Bernard Atwood is a successful YouTube personality and comedian from Ohio who mostly vlogs updates about his life and prank videos. However, what used to be daily posts have been significantly cut back in order to spend more time with his wife and family.
Despite not being as active as he has been in the past, Roman Atwood maintains a steady 15 million YouTube subscribers and currently has an estimated net worth of $12 million. He still makes between $1k and $19k a month for his videos.
Shawn Mendes — 15.4 million subscribers
Shawn Mendes, now a popular name in the music business, got his start on YouTube back in 2013 after learning to play guitar then posting videos of himself playing covers. Just one year later he signed with Island Records. The Canadian star has since released three studio albums and headlined just as many world tours, all while continuing to YouTube.
Shawn Mendes' YouTube channel has over 17 million subscribers with over 5 billion views that bring him up to $16k a month alone. His estimated net worth is said to be $12 million for all of his endeavors.
RiceGum — 10.8 million subscribers
Bryan Le, who goes by the screen name RiceGum, is a YouTube rap star out of Los Angeles, California via Las Vegas, Nevada. Ricegum was ranked in the 25th spot on the Billboard Emerging Artists chart back in 2017 and earned a platinum certified album in March 2018. He was also featured in a Super Bowl LII television commercial for Monster headphones.
RiceGum has almost 11 million YouTube subscribers with an estimated net worth of roughly $8 million. His almost 2 billion total views earns him up to $127k per month. His YouTube channel is the 231st most subscribed to channel on the website.
Ryan ToysReview — 17 million subscribers
In a shocking turn of events, next on the list is Ryan ToysReview (probably not his actual last name) – a 7-year-old YouTube star and the youngest on this list (and probably many others). The Ryan ToysReview YouTube channel is a mix of toy features, science and educational videos, animation for children, personal vlogging, and so much more.
The Ryan ToysReview YouTube channel has over 17 million subcribers with almost 27 billion (with a 'B') total views. According to Forbes, 7-year-old Ryan was listed as the single highest paid YouTuber in 2018 having brought in $22 million from his videos alone. You can now find his very own product line at Walmart.
The ACE Family — 15 million subscribers
The Ace Family—an acronym for its members Austin, Catherine, and their daughter Elle—is a family YouTube channel showcasing their videos of their everyday life together. Their everyday life being pretty high on the luxury scale, of course.
The ACE Family YouTube channel has over 15 million subscribers with a combined 2.3 billion video views. Their estimated net worth is $13 million dollars. Their uploaded videos documenting their fabulous lives continue to earn them anywhere between $36k and $589k per month.
Logan Paul — 18.7 million subscribers
Logan Paul is a YouTube star and actor from Westlake, Ohio who first came onto the internet video scene in 2013. He got his start on the now-defunct Vine video sharing service before he made the move to YouTube. He's spent most of his time creating funny videos on seemingly random subjects and racking up guest appearances on television and in movies including Law & Order: Special Victims Unit and The Thinning.
Logan Paul's YouTube subscribers number almost 19 million—a huge number for such a short career. Though his popularity has slowed after a controversial video of his trip into the Suicide Forest of Japan, he still walks away with an estimated net worth of $14 million.
Jake Paul – 17.7 million subscribers
Jake Paul is Logan Paul's younger brother and together they're both involved in a YouTube group known as Team 10. Jake Paul alone is known for creating sketch videos and music videos, as well as portraying the character of Dirk on the Disney Channel show Bizaardvark.
Jake Paul's YouTube channel has almost 18 million subscribers at the time of publishing who've watched his videos over 5 billion times. His personal net worth is estimated to be $8 million that he's earned through a combination of website views and online brand endorsements.
Markiplier — 21.6 million subscribers
Originally from Honolulu, Hawaii, Markiplier—born Mark Edward Fischbach—is a YouTube star currently based in Los Angeles, California. Markiplier specializes in sketch comedy, gaming videos, animations, and many other types of entertainment, but he's famous for his video game commentary.
Markiplier's YouTube channel caters to an unbelievable 22 million subscribers with almost 11 billion views since 2012. It's estimated that he makes between $39k and $631k each month, with a total net worth said to be around $24 million.
Jenna Marbles — 19 million subscribers
Jenna Marbles, born Jenna Nicole Mourey, is an American YouTube star, comedian, and actress. She rose to fame after posting a video in 2010 titled "How to Trick People Into Thinking You're Good Looking" that immediately went viral. In 2015 she became the first ever YouTube star to have a wax figure of herself unveiled at Madame Tussauds in New York City.
Jenna Marbles (named after her dog, Mr. Marbles) has a YouTube channel with 19 million subscribers which, in 2017, was the highest subscribed to YouTube channel by a woman. Her current net worth is estimated at $4 million.
Ninja — 20 million subscribers
Simply known as 'Ninja', Richard Tyler Blevins is a YouTuber in the gaming world. Ninja is known as a Fortnite master (Fortnite being the popular new battle/fantasy video game released in 2017). He admits to making most of his revenue simply from people watching videos of him playing these games. His likeable personality and killer gaming skills make him a joy to watch.
Ninja's YouTube subscribers, who watch him play many other games besides Fortnite, number more than 20 million. As of 2019, Ninja's net worth is estimated to be nearly $10 million simply from video streams on YouTube and another site called Twitch.
DanTDM — 20 million subscribers
Like Ninja, DanTDM is a British online gamer turned YouTube star. His YouTube channel covers many video games but focuses on Minecraft (the game focused on "placing blocks and going on adventures") and is listed among the top YouTube channels in the United Kingdom. DanTDM, born Daniel Robert Middleton, has earned several Kids' Choice Awards and a spot in the Guinness World Records for his gaming.
In 2017, DanTDM, thanks to his 20 million subscribers, topped the Forbes list of highest-paid YouTubers earning over $16 million in one year. He makes anywhere from $52k to $900k a month playing games and his current estimated net worth is said to be $20 million.
Nigahiga — 21.1 million subscribers
Nigahiga, known in the real world as Ryan Higa, is an American YouTuber known for his comedy videos that started with "How to Be a Ninja" back in 2007. For 677 consecutive days between 2009 and 2011 he was ranked as the most subscribed to channel on YouTube. Today however, his channel is ranked 40th.
Fortieth place or not, Nigahiga's YouTube channel currently has over 21 million subscribers and almost 4 billion views. He's said to make between $5.5k and $88k each month for his videos and the native Hawaiian's net worth is currently estimated at $10 million.
Smosh — 24 million subscribers
The first duo on the list, Smosh is a sketch comedy YouTube channel created and maintained by friends Anthony Padilla and Ian Hecox. Since its start back in the early 2000s, Smosh has expanded into offshoots for Spanish-speaking viewers (EISmosh), for video game content (Smosh Games), and a variety channel (Smosh Pit).
The Smosh YouTube channel has just about 24 million subscribers that bring them monthly earnings between $24k and $383k. It's said that Padilla has left the duo to pursue a solo career but together their estimated net worth is logged at almost $12 million.
VanossGaming — 24 million subscribers
VanossGaming may sound like a corporation but it's really just one guy—Canadian Evan Fong. Fong is a popular YouTube video game commentator and is currently the 29th most subscribed to YouTube channel. VanossGaming showcases videos of Fong playing video games, often with other YouTube gaming stars, and commentating on the progress.
The VanossGaming YouTube channel has over 24 million subscribers and a combined 10+ billion video views. It is estimated that Fong rakes in between $41k and $661k a month resulting in an estimated net worth valued at almost 8 million dollars.
Dude Perfect — 34.1 million subscribers
In what has got to be the most mesmerizing of all the YouTube channels, Dude Perfect is an American YouTube group made up of Tyler Toney, Cody Jones, Garrett Hilbert, and twins Coby and Cory Hilbert. The group specializes in videos showing the guys—who hold many Guinness World Records—completing seemingly impossible extreme sports and challenges.
The Dude Perfect YouTube channel has a huge following—over 38 million subscribers—to their videos that include bowling trick shots, dirt bike battles, ping pong tricks, and so much more. The group has an estimated net worth of about $20 million. Even split five ways, that's not a bad deal.
PewDiePie – 80.5 million subscribers
Finally, there's PewDiePie—the channel that holds the distinction of most subscribed to YouTube channel and most viewed YouTube channel. PewDiePie—whose real name is Felix Arvid Ulf Kjellberg—is a Swedish YouTuber who focuses on video game commentary and comedy. His content focuses on a series of video game commentaries called "Let's Play" (mostly in the horror genre) but he has since started incorporating comedy videos into his repertoire.
The PewDiePie YouTube channel has an unbelievable 80 million subscribers for a total of over 20 billion. He's said to earn between $43k and $694k a month – with an estimated net worth of $20 million.